Believe Magazine - Issue 22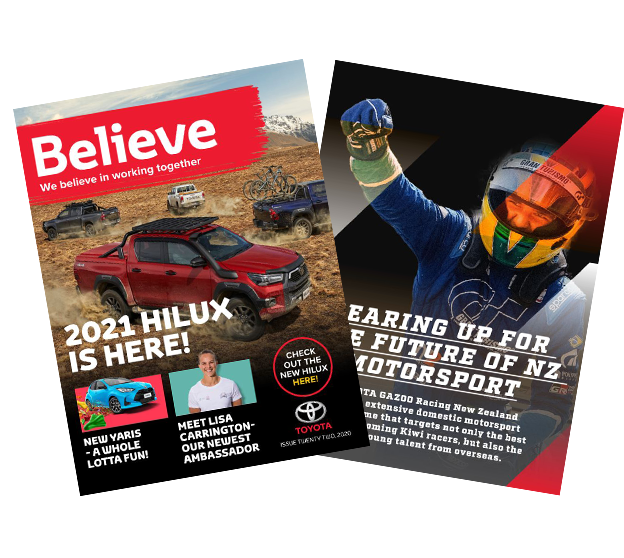 View the latest issue of Believe Magazine
If you wish to view Believe magazine on a mobile device or on your desktop you can now view our digital magazine version for both.
Inside the pages of Believe we have a selection of contents. We introduce our new CEO Neeraj Lala, who brings passion and enthusiasm to the role as Toyota transitions from a purely automotive company to becoming a mobility company.
We bring you the Motorsport calendars for both the Castrol Toyota Racing Series TRS and 86 TOYOTA GAZOO Racing New Zealand series.
We also share some tips on goal setting from Parenting Place.
Happy reading.
View Digital Magazine
The recovery since COVID-19 has given us a chance to reset and recharge.
We haven't slowed down; in fact we've managed to continue reviving our range of vehicles with new and exciting products.
The cover shows the 2021 Hilux – an iconic vehicle with an unbreakable Kiwi bond. It doesn't just look more powerful; it is more powerful.
The Yaris has added more members to its family with the All New GR Yaris and Yaris Cross. Both add extra elements of fun to the range. We also unpack more on the TOYOTA GAZOO Racing story in New Zealand.
Since our previous issue of Believe, we've welcomed a new Chief Executive Officer, who brings with him an incredible passion for our products and who will help transform Toyota through these changing times into a mobility company focused on exciting technology. TOYOTA GAZOO Racing New Zealand is gearing up for the future of motorsport in New Zealand over the summer months, with great incentives in prize funds for drivers.
This summer will see the Castrol Toyota Racing Series go ahead, albeit in a reduced three-round format. The 2021 series will again offer young drivers the opportunity to break through and show their talents to local and international audiences.
We introduce one of Toyota's newest ambassadors. Lisa Carrington will be advocating for our Toyota Kiwi Guardians partnership with the Department of Conservation, and shares her passions with us.
Summertime and the holiday season provide us with a great time to unwind and relax and reset for the year ahead.
We have some tips from Ellie Gwilliam, from Parenting Place, on how to talk about setting goals with your kids. We wish you happy and safe holidays.
How to talk about - setting goals with your kids
There's nothing quite like the satisfaction of reaching a goal – just ask a to-do-list writer, especially the extra passionate sort who secretly write things they've already done on their to-do list, just so they can experience the thrill of the tick. Goals are valuable in all sorts of ways and some golden life skills are on offer when we encourage our kids to join in the goal-setting conversation.
View Past Believe Magazine Articles