Driving Innovation
After nearly two decades of proven reliability and durability, hybrids are now a part of the normal, daily lives and routines of millions of people worldwide.
Let's Talk Hybrids
Your questions about hybrids answered by Rav the friendly RAV4.
Cutting Edge Technology
No matter what your lifestyle demands, hybrids go about doing their work quietly and efficiently, with the minimum of fuss, offering the type of performance and fuel savings petrol and diesel vehicles can only dream of.
To plug-in or not to plug-in?
With the introduction of Prius Plug-in Hybrid Electric Vehicle (PHEV) to Signature Class you now have the full range of hybrid options available. Corolla Hatch Hybrid, Prius , Prius c, Prius v and Camry Hybrids offer you the latest in Toyota Hybrid Technology, with no need to ever plug-in your vehicle. While Prius Plug-in expands your electric-only (EV) driving from 3kms to around 26kms* range when fully charged, and at speeds of up to 100kph. This means you can go even further and faster without the worry of running out of electricity.
Better battery life
Millions use and enjoy hybrids every day, without thinking twice about their batteries. Over the last eighteen years our batteries have proven themselves fully capable of withstanding the day-to-day rigours of modern city and long-distance driving.
Fuelled by efficiency
Hybrids seamlessly switch between electricity and gas for fuel-efficient driving. In fact, Toyota hybrids can deliver a 30-40%* saving in running costs over a similar sized petrol engine vehicle. Then there's the incredibly aerodynamic exteriors, which provide a seamless flow of air around the vehicles to maximise fuel efficiency. It all adds up to the EECA giving Prius hybrids a rating of 5.5 stars out of 6 for energy efficiency – and the Camry Hybrid being rated 5 out of 6 stars.

A long history
Toyota invented the concept behind Hybrid Synergy Drive® over 30 years ago. Starting with the Prius, Toyota has been mass-producing hybrid cars for 20 years – In that time we've sold over 10 million hybrid cars to customers worldwide. Our fourth generation hybrids are the result of years of continuous improvement, while other manufacturers are only now considering building their first.
Servicing made simple
Hybrid servicing costs are similar to any other Toyota, and they can be serviced at any Authorised Toyota Store. Our team of specialist Hybrid Technicians, know all our hybrids inside and out, and are the very best people to look after and maintain your vehicle, helping you enjoy years of trouble-free motoring.
Extend your range and better for everyone
Toyota hybrids have incredible range. For example, a Camry Hybrid with a 65 litre tank and 5.9l/100km* (combined ADR 81/02) fuel efficiency has a potential range of approximately 1,000km. So much for range anxiety!

Hybrids don't just save you money at the pump – they also reduce the amount of air pollution thanks to their exceptionally low carbon emissions. Take the Prius c for example – at just 90g/km* (combined ADR 79/02) you know that you're doing your bit every time you get behind the wheel.
Learn more about our hybrid models

Easy on the eyes, easy on the environment. With a 1.8-litre self-charging hybrid engine and all the extras, are you C-HR?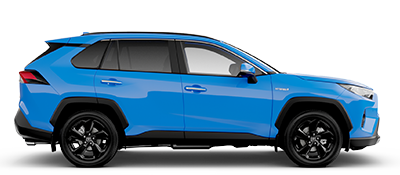 Toyota recognises that sustainability and fuel efficiency is a key issue for many SUV customers like you, so it has made the 2.5-litre petrol-electric hybrid powertrain available for the first time in the Next-Gen RAV4.

Now the sleek looks and sporty handling of Corolla Hatch comes with the responsive power, incredible efficiency and proven reliability only Toyota Hybrids can offer. Amazing in the city and open-road alike, NZ's favourite car just got even more attractive.
The Camry's combination of space and comfort, impressive handling, top-end build quality and exciting, next generation looks is impressive enough. But add hybrid fuel efficiency, and you create something truly exceptional.

Prius Prime combines the attributes of the popular Prius, with the added capability of plug-in charging for greater EV driving range. This Plug-in Hybrid isn't just cost effective to run, it's a huge leap forward in efficiency, driving performance, and innovation.

Prius Plug-in provides up to 26kms* of silent, pure electric driving (EV), before seamlessly switching to petrol-hybrid mode. This next-level combination means you can commute and complete short trips without using any fuel or producing any emissions.

*Fuel Consumption figures are tested under controlled conditions and are provided for comparison purposes, actual results will vary according to vehicle usage and operating conditions.