Find the ute that suits
Whether you want a beauty, a beast or a bit of both - we've got a ute that suits. The Hilux is a high spec vehicle for mixing business and adventure. If you're planning to use your new ute for work as well as exploring NZ's beautiful beaches, then Hilux might be the model for you.
Alternatively, the LC70 is our classic workhorse. So if you're looking for something all work and no play, then the single cab Land Cruiser 70 might make the perfect workmate.

Safe. Sound. Smart.
Toyota Safety Sense is a clever package of active safety systems designed to keep you and your passengers protected in all types of traffic. Around town and at lower speeds, Toyota Safety Sense can help prevent collisions. While on the open road and at higher speeds, it aims to reduce the severity of any impact with leading safety technology.

Pre-Collision System
The Pre-Collision System uses a radar sensor and a camera to determine whether a frontal collision with another vehicle is imminent. If necessary, you'll be warned with audio and visual alerts urging you to take evasive action. If you don't brake in time, it may automatically apply the Brake Assist System to help you avoid the collision or reduce the speed of impact.
*Cyclist and Pedestrian detection options available on selected models.

Dynamic Radar Cruise Control
This clever feature keeps a constant pre-set distance between you and the vehicle ahead, enabling you to pay more attention to the road conditions and your surroundings.
Dynamic Radar Cruise Control operates when your speed exceeds approximately 40km/h and maintains an adjustable vehicle-to-vehicle distance by automatically accelerating or decelerating to match the speed of the vehicle ahead. All without using your accelerator or brakes.
*All Speed Dynamic Radar Cruise Control is available on selected models, and operates from 0km/h.

Lane Departure Alert
Lane Departure Alert is designed to reduce the possibility of an accident due to your vehicle unintentionally drifting out of its lane.
The system recognises visible white and yellow lane markings. If it detects the possibility of lane departure, it will urge you to steer back into the correct lane using a warning buzzer and a visual display.
Disclaimers:
Toyota Safety Sense (TSS) is not available for all models and grades. For more information about the availability of TSS driver assist packages for Toyota models and grades, ask your local Toyota Store or visit the range page of your preferred vehicle at toyota.co.nz/our-range
TSS are driver assist safety packages only, designed to operate when certain technical conditions are met, and its features are not a substitute for safe driving practices. The driver remains responsible at all times for safe driving. For more information, refer to your vehicle's owner's manual.
Hilux can handle it
It's time to begin a bond as powerful as the ute itself. Behold, the powerful Hilux, with a beefed-up 2.8-litre turbo-diesel engine and 15% more power. This Kiwi icon is Toyota's most technologically advanced truck ever, with impressive safety technology and performance enhancements. Choose between 2WD, 4WD and from three different body shapes, Single Cab, Extra Cab and Double Cab - there's a ute for you.
With a bolder, tougher-looking exterior, it really is a beaut. In fact, the only way it could look better is if it was in your driveway.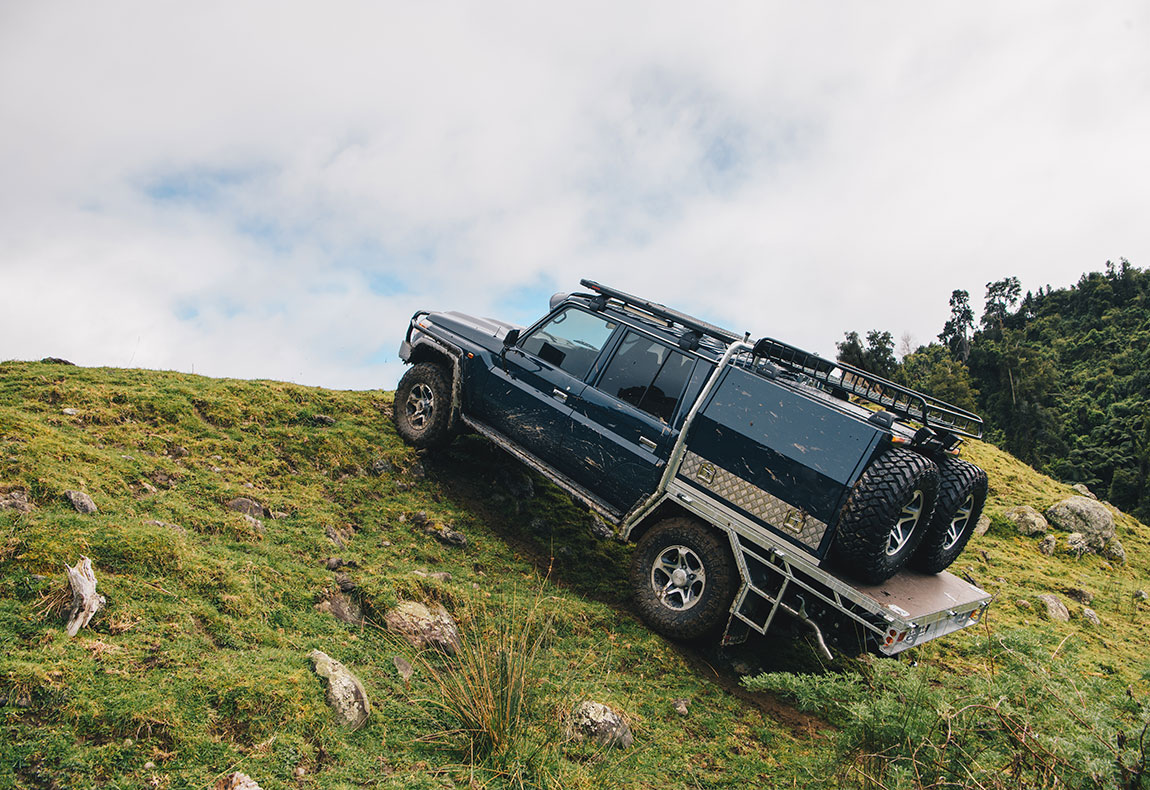 Meet the Land Cruiser 70
Unapologetically rugged and unrivalled, Land Cruisers are world-famous for durability and reliability. They can handle the day in, day out pressures of being on-farm, off-road and on-site with extraordinary stamina and dependability. The Land Cruiser 70 is serious about power and performance, so you can get the job done, no matter what. All models are powered by a 4.5 litre V8 Common Rail Turbo Diesel engine, delivering 151kW at 3400rpm and an impressive 430Nm of torque.
This modern-day icon provides the muscle needed to tackle the best of and worst of New Zealand's natural terrain.
VIEW THE LC70 RANGE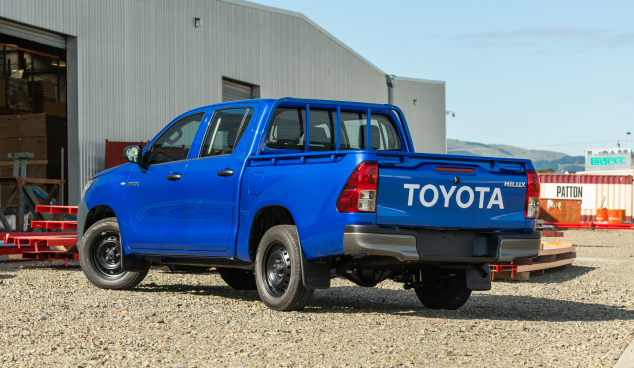 Maaaaaate
The Hilux WorkMate's low body height makes for easier loading, keeping you covered from work to weekend DIY. The Hilux WorkMate also features the proven 2.7L petrol engine with 245Nm of torque, so heavy loads in the tray are good to go, mate. City driving is no problem either - this Hilux fits easily in covered parking garages.
Both Single and Double Cab variants boast a smooth 6-speed automatic transmission for a responsive drive. All this makes the Hilux WorkMate the best addition to your tool kit at our most affordable price yet.
Everything you need to stay on the road
Every new Toyota comes with a value package to help you get the best value for up to the first five years of ownership. This includes up to 5 years capped price servicing coverage, 5 years warranty, 5 years roadside assistance and 5 years WoF coverage. We'll even include all on-road costs, such as a full tank of fuel. How's that for value?
*T&Cs, KM limits, and servicing criteria apply. Toyota Driveaway Price excludes the NZ Government Clean Car Programme rebate or fee.