Which Ute is Best for You?
It's no surprise that Kiwis love utes, but how do you know which ute is best for you?
INTRODUCING THE POWERFUL NEW 2021 HILUX
The new 2021 Hilux. A beefed up 2.8-litre turbo-diesel engine with 15% more power. Hilux is back, and it's a ute that you'll bond with for life.

Toyota's most technologically advanced truck ever, this Kiwi icon comes with comprehensive safety technology and performance enhancements. Choose between 2WD, 4WD and from three different body shapes, Single Cab, Extra Cab and Double Cab – there's a ute for you.

A bolder, tougher-looking exterior. It really is a beaut. The only way it could look better is it was in your driveway.

Maaaaaaaaate
With low body height for easier loading and the latest Toyota Safety Sense technology as standard, the Hilux WorkMate is the best addition to your tool kit at our most affordable price yet.
Power and Strength
Do you need a farm ready 4WD that can handle off-road terrain? A truck that's tough and durable to transport work gear and tools? Do you need a double cab ute to take the entire family with you or will a single cab ute work?

If power and strength are must-haves for your new ute, then the Toyota Hilux and Land Cruiser 70 Series can deliver on both. Having excellent maneuvering and towing capabilities, Toyota utes can handle whatever task you throw at them. Whether it's moving items from A to B, towing the boat to the family bach and more.

Family Ute or Business Workhorse?
When considering a Hilux or Land Cruiser 70 Series there are a few factors to consider, when deciding which ute is best for you. If you are planning to use your new ute for both the work site as well as exploring New Zealand's beautiful beaches with the family, then a double cab Hilux might be your ute. If you're looking for an all business workhorse, then the single cab Land Cruiser 70 Series ute might be the one you need.

Check out our handy guide to the overall cost of ownership before you buy so you have the information you need to purchase your new ute with confidence. When you drive away in a Toyota we want you to feel secure, not just on the road but financially as well.

The Toyota Ute Difference
Buying a Toyota means you're not just buying a ute; you're buying safety, quality, efficiency, and innovation. Toyota's go above and beyond what you would expect out of a standard ute.
Build Quality
Toyota's engineers have been where you've been and they've seen for themselves the conditions you operate in; they understand New Zealand's varied landscapes and what New Zealand drivers expect of their ute.

This is why Toyota builds utes that are known for durability and reliability. If you need a ute that's hardworking, reliable and functional, you can trust a Toyota to be your faithful workhorse.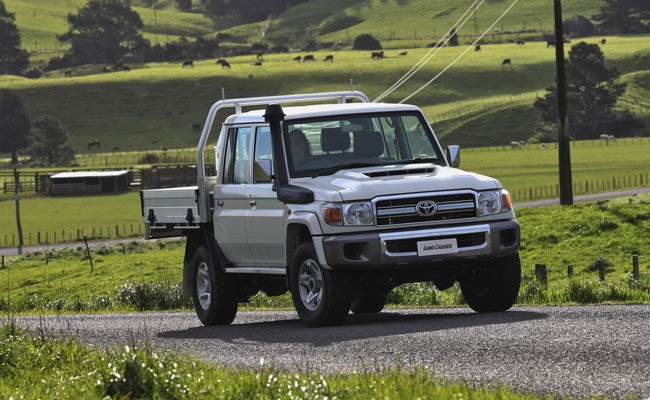 Ute Safety and Innovation
Your safety is our most important concern at Toyota. Through constant innovation Toyota utes are fitted with the latest safety features, designed to keep you, your employees and your family safe on the road.
Whether your ute is for work, play or a little of both – you'll want the extra peace of mind that comes with a robust suite of safety measures onboard.
Build Your Own Best Ute
Toyota Build Your Own gives you the flexibility to build your dream ute with the features you want, so you only pay for what you need. Meaning you can customise your new Hilux or Land Cruiser 70 Series to express your individuality and enjoy owning a vehicle that's built specifically to your needs and style. Like a custom-made suit, a ute built to your own specs gives you the best fit. Our utes can be tailored with a range of customisation options for: drive type, cab size, tray, wheels, interior and exterior accessories.

Building your own ute is a simple case of knowing what features you want, how much you want to spend and then following the steps on our Build Your Own tool. Are you ready to create your brand new ute?
Secret Spots
These Toyota 4x4 utes get you to the remotest of spots because we believe there's nothing better than exploring your own backyard. Check out these epic adventures from our Secret Spots series.