Find the best SUV for you
Discover the Toyota SUV that suits you best. From our rugged Fortuner family SUV, that's great for off-road weekends away, to the versatile RAV4 or more agile and urban C-HR there's something for everyone. If you've got a big family, try the 7 seater Highlander – or for 4x4 luxury adventures step up to the Land Cruiser 200 or check out the impressive tech and luxury of Land Cruiser Prado.
SUVs that can handle anything
Our SUVs are packed with an impressive variety of features and technology. Whether it's size, power, 4WD capacity, luxury or efficiency you want, each vehicle is different, and offers unique advantages. So it's well-worth taking a closer look. Want to see which SUVs have the features you need to enjoy your kind of NZ lifestyle? Use our handy comparison tool to see our top picks suited to you.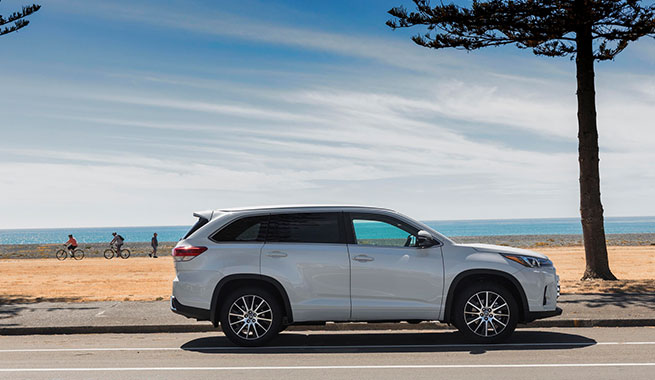 Made for family time
Our range of SUVs are perfect family cars. They can go almost anywhere on-road or off, and do anything a car can and more, perfectly balancing space, comfort and practicality. There's 7-seater options like the Highlander for larger families – and the mid-sized RAV4 is versatile and ideal for driving around the city. There's also the smaller, eye-catching C-HR, which is great for city adventures. No matter what you choose, you'll find space for luggage, thoughtfully designed seating layouts and ample extras – like the Fortuner's Touch Tumble seats, power back door and 220v power outlet.
Compare our best family SUVs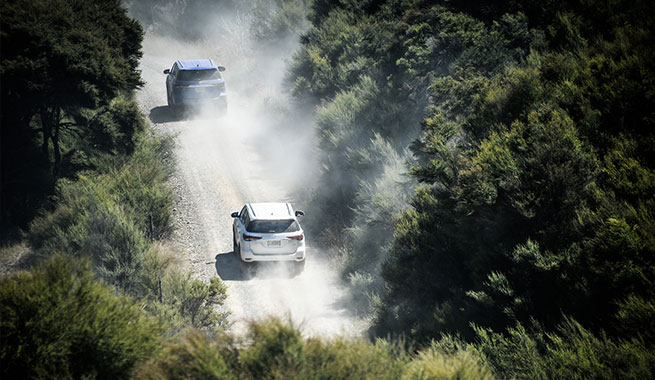 The adventure never stops
Into fishing, camping or horseriding? Maybe motorcross, mountain biking, surfing or kayaking is more your thing? Whatever your escape is, we've got an SUV that can help you do it. Our range includes crossover and true 4X4 options, like the rugged, yet spacious Fortuner. The Highlander fits the bill as a larger 7-seater to tow the boat or caravan and comfortably carry the family. You won't have to leave anything behind with tow ratings starting from 600kg (unbraked) in the C-HR to the Land Cruiser 200's mighty 3500kg (braked). The Land Cruiser 200 and Prado provide luxury and comfort, along with extreme off-road capability. With Toyota's famous reliability across the SUV range, you know they won't let you down.
Compare our most adventurous SUVs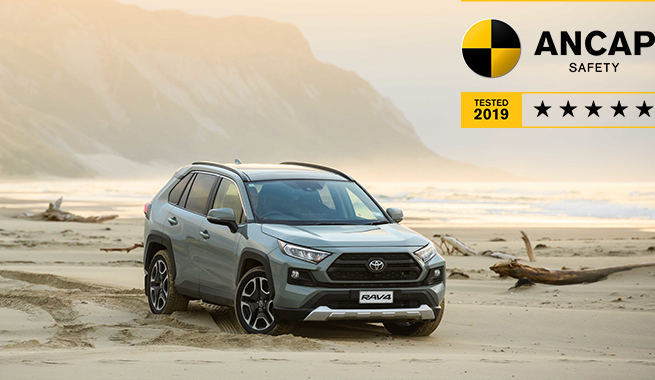 Safety first, pure and simple
Protecting your loved ones is front of mind for all families. But which SUV is best for safety? All our SUVs have a 5 Star ANCAP safety rating. Toyota Safety Sense is standard across the SUV range – a package of active safety systems designed to help keep you and your passengers protected in all types of traffic. These features have been carefully engineered to wrap a blanket of safety around you and your family. Each vehicle is different, so each safety package varies. To see which SUV suits you best, compare their safety features now using our handy tool.
Compare our SUVs' safety systems
Born for the city
From the fun to drive C-HR, to the versatile comfort of the RAV4, the legendary luxury of the Land Cruiser Prado to the Highlander's carrying capacity, we've got an SUV to match. Whether it's reverse parking sensors and cameras (across all SUVs in the range), more high-end extras like the SUNA Traffic Channel* to avoid the gridlock – or Lane Departure Alert** to warn you if your vehicle drifts out of its lane – you'll find the features you need to enhance your urban lifestyle. So why not compare a few of our more urban-minded SUVs now, and see which works best for you and your family?
*SUNA Navigation only available in some regions. Not avaible on all models.
**Not avaible on all models.
Compare our best SUVs for urban versatility