Believe Magazine - Issue 21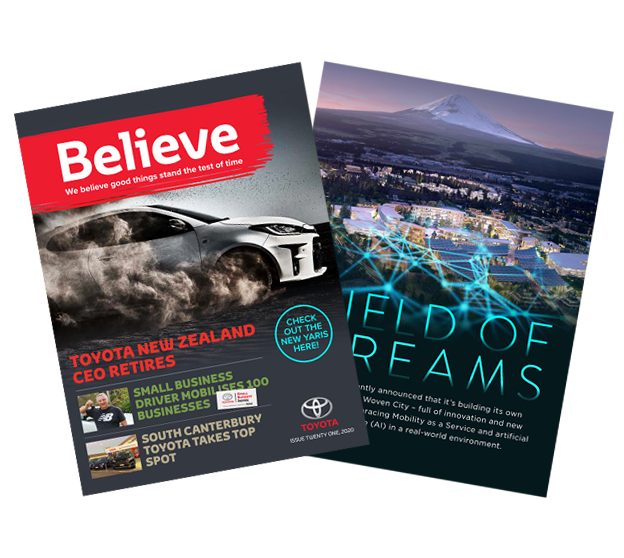 View the latest issue of Believe Magazine
If you wish to view Believe magazine on a mobile device or on your desktop you can now view our digital magazine version for both.
Inside the pages of Believe we have a selection of contents. We pay respect to 40 years of service from our retiring CEO Alistair Davis, we bring in some great parenting advice from lessons learned in Lockdown, interviews with Kiwi Motorsport icons Nick Cassidy and Brendon Hartley - we're sure there will be something that will appeal to you.
View Digital Magazine
This time in our history brought with it an ideal opportunity to pull together the content for Believe magazine – our 21st issue. And despite feeling that we were in another, much slower world, plenty of things happened that we'd like to share with you – not least a pending changing of the guard, with our current CEO Alistair Davis retiring after providing a marathon 40 years of service to Toyota New Zealand.
Alistair has been instrumental in Toyota's ongoing success in New Zealand, and a hugely supportive CEO, particularly in his contributions not only to upholding the Believe brand but in a personal capacity, assisting with many articles since we launched Believe 21 issues ago! You can read an in-depth interview with Alistair, in which he reflects on his past 40 years.
There's lots to look forward to as many of our activities resume. Take a look at the motorsport interviews with Brendon Hartley and Nick Cassidy – two Kiwi talents who have made it on the world motorsport stage. Also, we're excited that yachting activity with Emirates Team New Zealand will start to ramp up in the coming months as we prepare to defend the America's Cup once again.
Back at Toyota's National Customer Centre in Palmerston North, our warehouse was last year extended to the size of about four rugby fields. With the extension came seismic strengthening of the original building and the opportunity to bring in additional safety features, including a better separation of people and machines, assisted lifting for heavier items, and narrower, single-direction aisles.
Finally, at Toyota, Kaizen is what we stand for! We believe every day's an opportunity to improve.
We're forever thinking about the next and learning from the past. We share some examples of how we have put Kaizen into practice in our business operation.
Safe Space
2019 saw the completion of the new extension of Toyota New Zealand's national parts warehouse – but the work didn't end with the warehouse expansion. It was the catalyst for a Toyota drive to become a leader in the areas of health and safety for the 44-plus staff who pick and pack parts to distribute to Toyota's 67 stores nationwide.

The extension project revealed shortfalls in the seismic strengthening of the original, 40-year-old building – so the next task was to upgrade the facility to meet 100 per cent of the Building Code.

View Past Believe Magazine Articles