Believe Magazine - Issue 19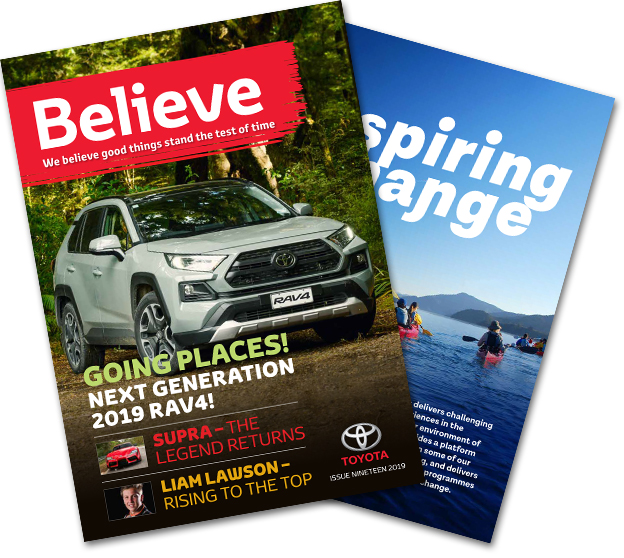 View the latest issue of Believe Magazine
If you wish to view Believe magazine on a mobile device or on your desktop you can now view our digital magazine version for both.
Inside the pages of Believe we have a mixed bag of contents from tips on talking to your kids about the new arrival of a sibling, finding out some of the latest technology in our vehicles, to getting a taste of the motorsport season - we're sure there will something that will appeal to you.
View Digital Magazine
It has been just over 12 months since we launched the Drive Happy Project, one of the most comprehensive rethinks of a business model the car retailing business has seen, certainly in New Zealand and possibly globally.
Feedback has been positive and it shows that customers are enjoying the hassle-free purchase approach, doing most of their research prior to going to a store. We have received great customer endorsements you can view in our Happy Days article.
Two years out, landscape of Auckland is beginning to change as preparations begin for the next America's Cup challenge – Emirates Team New Zealand's defence of the 36th America's Cup regatta. We spoke with Sir Stephen Tindall to get his insights into how the America's Cup is transforming Auckland.
Great new product updates feature too in this issue of Believe. The next-gen RAV4 – the best-selling SUV in New Zealand and the world. After 14 years Hiace takes on a new look and finally, the fun doesn't stop with the all-new, fifth-generation Supra.
The future is closer than we think as we look at some future technology at the CES (the Consumer Electronics Show).
Diamond Dealers
Toyota has reached a major environmental milestone throughout its network of toyota and lexus dealers – the ultimate step in a nine-year journey – with all 64 dealer stores nationwide now achieving enviro-mark diamond certification.

Enviro-mark diamond certified organisations have a robust environmental management system (ems) in place to identify significant impacts, develop internal plans to prevent or reduce those impacts, and find opportunities for improvement. It exceeds the requirements of ISO 14001, one of the world's most recognised environmental standards.

Dealers began the enviro-mark programme in 2010 by appointing a dedicated environmental champion to organise and implement environmental initiatives. They progressed through the five levels of bronze, silver and gold, to platinum and finally diamond. Dealers are independently audited at each step every year.
View Past Believe Magazine Articles