Believe Magazine - Issue 20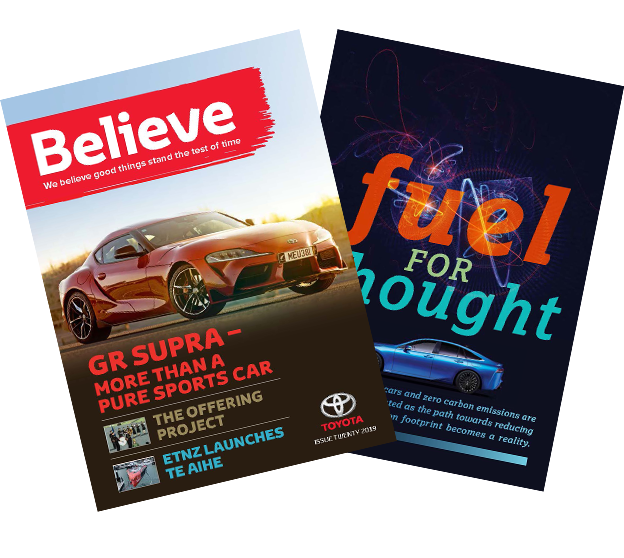 View the latest issue of Believe Magazine
If you wish to view Believe magazine on a mobile device or on your desktop you can now view our digital magazine version for both.
Inside the pages of Believe we have a mixed bag of contents from tips on talking to your kids about the new arrival of a sibling, finding out some of the latest technology in our vehicles, to getting a taste of the motorsport season - we're sure there will something that will appeal to you.
View Digital Magazine
Believe is up to its 20th issue! That's 20 different magazines in the past 10 years. To celebrate we take a look back at where we have come from and how we have evolved in the past decade.
We unpack some of the stories that have put Believe and all its values into practice. Whether they are following our brand ambassadors and all they do or our closely aligned partnerships, each in its own way makes up the essence of Believe.
We've enjoyed and continue to delight in telling the story of Kiwis and what makes New Zealand a great place
Great new product updates feature too in this issue of Believe. The next-gen RAV4 – the best-selling SUV in New Zealand and the world. After 14 years Hiace takes on a new look and finally, the fun doesn't stop with the all-new, fifth-generation Supra.
The future is closer than we think as we look at some future technology at the CES (the Consumer Electronics Show).
How to talk about: Dollars and Sense
There are some topics of conversation that people generally avoid so they don't change the vibe of the room. It might be politics, religion or hamming on about your love of sausages while attending a conference for vegans. For lots of New Zealand families, we don't talk about our incomes or our loans or our debts because we were brought up not to talk about it.

You don't often sit at the dinner table with your in-laws and ask them how much of their wealth you stand to inherit and how much longer they expect to live. It's too awkward – and inappropriate. A lot of people who struggle financially have never had the opportunity to talk about money. Our children need a safe place to discuss and learn about all of these sensitive topics. Especially if it's about something as important as money.

View Past Believe Magazine Articles