Corporate Fleet Management
Partner with the experts in vehicle finance, fleet management and more. We're the people you can rely on and work with for the long term.
Our promise to you
At Toyota Fleet Management, we work hard to earn the trust of you, our customer. By gaining a deep understanding of your business we add real value. It's all about building a collaborative, transparent partnership. Beyond financial and fleet support, you can turn to us whenever you need to. We're the people you can rely on, and work with for the long term. We want to be your trusted partners in fleet.
What you can expect
Partnership: We start by immersing ourselves in your business, and work with you to build a lasting relationship.
Expertise: We attract talented, passionate people who are trained to become fleet experts you can count on.
Transparency: You always know exactly what you're getting because we have nothing to hide.
Continuous improvement: It's the Toyota DNA that drives us to develop efficient processes and innovative products to enhance your business.
Consistency: Over the years, we've supported clients through good times and bad – and we're not going anywhere.
Our Process
At Toyota Fleet Management, we're passionate about continuous improvement and are always looking for better ways of doing things through innovation and sharing best practice. Our annual customer survey is a great example of this. Where we ask you what we're doing well and where we can improve. Your feedback then helps us to give you the best fleet products and service possible.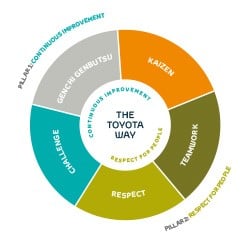 Another key aspect of our business is that's it's built on individual efforts and good teamwork. Respect for colleagues and customers is behind everything we do. Your business is our business, which is why building your trust is so important to us. We like to get our hands dirty, working with you to understand your business. That way, we can give you tailored fleet advice to help you make informed decisions. It's a partnership designed to make you look good. These values form The Toyota Way, a statement of our culture and processes that dates back to the early 1900s, which has contributed to Toyota's success. Work with us and we can drive your success too.
Our Performance
We've experienced a lot of change since our early days as Toyota Fleet Management. Thanks to our customers' belief in us (and plenty of hard work), we've grown to become one of New Zealand's leading Fleet Management Organisations.
With over 25 years' financial services and fleet experience, we are perfectly positioned to support your business and share our knowledge with you.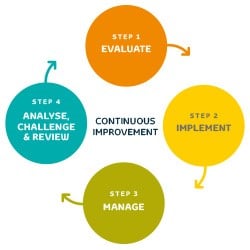 The Toyota Fleet Management advantage
Toyota Fleet Management has direct access to very competitive funding. That means you can access great rates and competitive deals. You'll also work with a stable company that supports you through the ups and downs, with the flexibility to adapt to your changing business needs over time.
How this benefits you
Reassurance: Full backing from the Toyota brand offers you the stability you need, along with the opportunity to leverage Toyota's buying power.
Asset Management: With over 10,000 vehicles under management we are the fleet management experts.
Fleet Capability -
Commercial Vehicles
As a commercial enterprise, you rely on partners who understand your needs. Our commercial vehicle department specialises in the unique demands of your business. We cover every aspect of your fleet management through a simple, streamlined process. Our commercial vehicle specialists offer you:
Expert advice on vehicle selection and specification
Extensive technical knowledge
Information on legislation regarding weights and limits
Fit-for-purpose vehicles based on your specific needs
End-to-end management throughout a vehicle's lifecycle