All About Hybrid Electric Vehicles
The world's introduction to electric vehicle possibilities
Toyota first introduced the world to mass-produced hybrid electric vehicles in 1997 with the launch of the Prius. As of 2021 there are more than 15 million Toyota hybrids on the roads, more than any other manufacturer, and this number continues to rise.
Hybrid electric vehicles are an important part of the answer to reducing transport CO₂ emissions. They use their electric motors to help power the vehicle. This increases the fuel efficiency of their petrol engines, meaning they use less fuel and generate less emissions to travel the same distance.
Have more questions? Then see the host of other reasons Hybrid Electric Vehicles (HEVs) and Plug-in Hybrid Electric Vehicles (PHEVs) are such great cars below.
How do hybrid electric vehicles work? Do they run on electricity?
Hybrid electric vehicles have an internal combustion engine and an electric motor. Depending on the model, the electric motor can power the car at speeds of up to 100 km/h, meaning it produces less CO2 emissions compared to similar internal combustion engines, uses a lot less fuel, and barely makes a sound.
When it's more efficient, the vehicle will seamlessly switch to using the internal combustion engine, supported by the electric motor if extra power is needed. Regenerative braking is also able to retain energy and recharge the vehicle's hybrid battery.
What kind of hybrid electric vehicles are there?
There are two kinds - Hybrid Electric Vehicles (HEVs) and Plug-in Hybrid Electric Vehicles (PHEVs).
HEVs are like conventional cars, they need to be refueled with petrol. The internal combustion engine and regenerative braking keep the vehicle's hybrid battery charged, meaning the vehicle self-charges the hybrid battery.
PHEVs are closer to full battery electric vehicles, with the ability to recharge the hybrid battery at a charging station or at home. The difference is it also has an internal combustion engine, which can provide the car with greater range than current battery electric vehicles.
Do hybrid electric vehicles need to be charged?
HEVs do not need to be charged. They use their internal combustion engine and regenerative braking to keep the hybrid battery charged. This means they only need to be refuelled, the same as a conventional vehicle.
PHEVs are a little different. Depending on the conditions and the amount of charge in the hybrid battery, they will primarily use their electric motor to get around. If the battery is running low, or it's more efficient to use both the electric motor and the petrol engine, it will seamlessly switch to petrol power, recharging the hybrid battery if needed.
It can also be plugged into charging points to recharge the hybrid battery.
Our hybrid electric vehicles also feature regenerative braking technology, so when you brake, a generator produces additional electricity which helps recharge the hybrid battery.
Can I trust hybrid electric vehicle technology? Are they reliable?
At Toyota, we've been developing hybrid technology since the late 90's, and our hybrid electric vehicles are now in their fourth generation.
Hybrid electric vehicle components, including the hybrid battery, come with our 8-year/160,000km warranty, and with no elements such as a clutch, alternator or starter motor, there's less chance of unexpected costs popping up in the future.
What happens to the old batteries?
Once a hybrid battery has come to the end of its operational life, it needs to be retired. We have a nationwide programme in place to collect batteries from our stores and automotive dismantlers.
What is the range of a hybrid electric vehicle?
Hybrid electric vehicles have comparable ranges to conventional internal combustion vehicles, but their use of both electric power and fuel means you can travel those distances using less petrol and therefore emitting less CO₂ and other emissions.
How powerful is a hybrid electric vehicle? Are they fun & easy to drive?
Hybrid electric vehicles are able to switch seamlessly between electric and petrol power. This means you get instant torque or pulling power from the electric motor when you press on the accelerator, or if you're on the motorway or State Highways, the petrol engine and electric motor will work together for a strong, powerful boost when needed.
This, combined with Toyota's New Global Architecture (TNGA) platform give you a fun driving experience while also adding cornering stability and better handling.
Can hybrid electric vehicles be All Wheel Drive?
While most hybrid electric vehicles are front-wheel drive, there are All Wheel Drive (AWD) options for those needing greater off-road or all-weather capability. In models like the RAV4 Hybrid AWD, an additional electric motor provides power to the rear wheels, giving a secure grip on loose, slippery surfaces.
Are hybrid electric vehicles affected by the seasons?
There are no real differences between driving a hybrid electric vehicle and a conventional internal combustion vehicle in different seasons. If conditions are extreme, such as snow, ice or heavy rain, you'll need to take similar precautions as you would with any other road.
Our AWD models do offer enhanced road grip and stability, while all our hybrid electric vehicles come with Traction Control and Vehicle Stability Control systems.
Are hybrid electric vehicles expensive?
With their growing popularity, hybrid electric vehicles now cost a similar amount to conventional internal combustion vehicles. They also retain more of their resale value, cost less in fuel, have less moving parts that can wear and tear, and (in the case of PHEVs) are eligible for government initiatives, like the Clean Car Discount.
How often do hybrid electric vehicles need maintenance?
Thanks to regenerative braking technology, that reduces wear to items like brake pads, the maintenance costs for hybrid electric vehicles are lower than a conventional petrol vehicle.
Some costly items like the clutch, alternator and starter motor have been completely removed which further reduce the potential for unexpected repair or maintenance.
Which is the best hybrid electric vehicle for me?
We have nine current models of hybrid electric vehicles to choose from, and more coming over the next few years.
From city cars to all-wheel-drives, family sized cars to little hatchbacks, we have a hybrid electric vehicle that will suit you.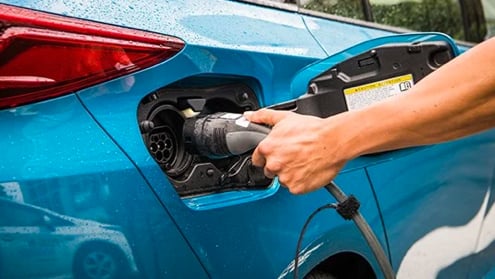 Plug-in Hybrid Electric Vehicles (PHEV)
The larger capacity hybrid battery of our Plug-in Hybrid Electric Vehicles (PHEV) provide the zero driving emission efficiency of a battery electric vehicle in EV mode while offering the security of having petrol power for additional range when travelling on longer journeys.
Check out the Prius Prime PHEV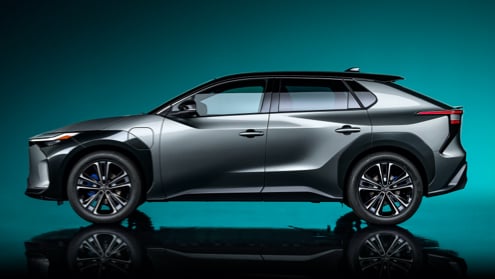 Battery Electric Vehicles (BEV)
Producing zero emissions while driving, and powered solely by electricity, our Battery Electric Vehicles (BEV) give you great performance and a comfortable ride.
Learn more about BEVs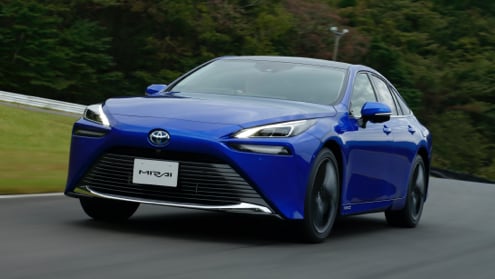 Fuel Cell Electric Vehicles (FCEV)
An innovative and exciting technology, Fuel Cell Electrified Vehicles (FCEV) offer the range and convenience of conventional petrol engines with the power and performance of an electric vehicle, fuelled by hydrogen and the only exhaust by-product they produce when on the road is water.
Learn more about this revolutionary new technology
Our Dedication to an Electrified Future