Toyota Battery Electric Vehicles
*Concept model shown. Cars and accessories may differ from final New Zealand specification.
Zero Driving Emissions
Having been a major player in electrified vehicles for over two decades, we know how to get the best performance, power and reliability from an electric motor. With 7 or more new, battery electric vehicles due to be released by 2026, our next-generation designs will change the perceptions of zero emission driving.
Lead the charge
Electrified vehicles are the future - don't miss out on knowing all about the latest news and Toyota vehicles as and when it happens. Sign up now and get the latest scoop on everything electrified at Toyota.
Great driving experience
Due to the efficiency and performance of electric vehicles, driving one is extremely rewarding and fun. They provide impressive power, getting up to their maximum acceleration rate almost instantly.
Easy to recharge
Toyota battery electric vehicles can be recharged almost anywhere - quick direct current (DC) charging stations offer the fastest recharge rates, while alternating current (AC) wall charging points, found in residential garages, and household sockets can take longer but can be found in more locations.
Forward-thinking battery production
Our batteries follow the Toyota principle, being built to last. Our all-electric batteries have an 8-year/160,000km warranty.
When it is time to retire a battery, we do so safely and responsibly. We have a nationwide programme in place to collect batteries from our stores and automotive dismantlers.
Learn more about Battery Electric Vehicles (BEVs)
Toyota bZ4X
The bZ4X is the first glimpse at the Toyota Battery Electric family. With the versatility of its SUV design, and All-Wheel-Drive (AWD), the bZ4X will have a competitive range, zero driving emissions, and all the space you could need.
Discover our Electrified Vehicles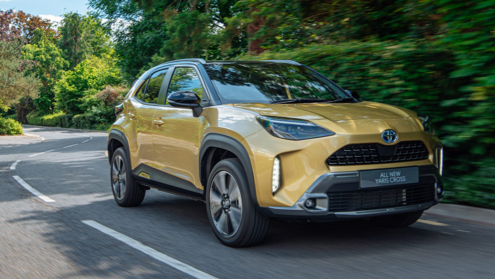 Hybrid Electric Vehicles (HEV)
Our Hybrid Electric Vehicles (HEV) offer drivers a mix of low emission electric-power in EV mode and petrol power for a more efficient journey with no need to be plugged in to charge.
Discover our HEVs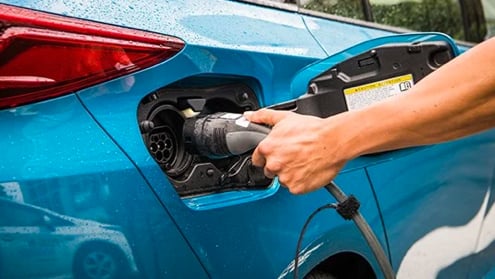 Plug-in Hybrid Electric Vehicles (PHEV)
The larger capacity hybrid battery of our Plug-in Hybrid Electric Vehicles (PHEV) provide the zero driving emission efficiency of a battery electric vehicle in EV mode while offering the security of having petrol power for additional range when travelling on longer journeys.
Check out the Prius Prime PHEV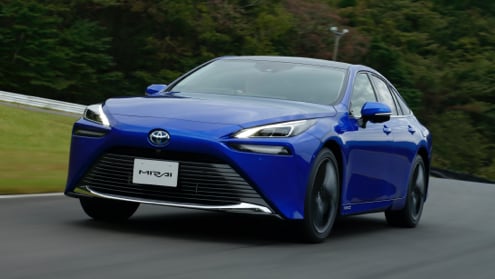 Fuel Cell Electric Vehicles (FCEV)
An innovative and exciting technology, Fuel Cell Electrified Vehicles (FCEV) offer the range and convenience of conventional petrol engines with the power and performance of an electric vehicle, fuelled by hydrogen and the only exhaust by-product they produce when on the road is water.
Learn more about this revolutionary new technology
Our Dedication to an Electrified Future