Prius Plug-in Hybrid Electric Vehicle
Get the best of both worlds with a Prius Plug-in
Available exclusively as part of the Signature Class range, the Prius Plug-in Electric Hybrid is sure to impress.
A fusion of hybrid technology and a pure electric vehicle, the PHEV (plug-in hybrid electric vehicle) means you can now go further for less. With its intuitive controls and high quality interior, the driving experience is smooth, relaxed and inherently pleasurable. Drive with confidence on longer journeys, and reap all the electric benefits of driving on shorter trips around town.
Go near on electric. Go far on hybrid.
Compare your commute
In EV mode the Prius Plug-in benefits from the powerful Lithium-ion battery. With only a 90-minute charge Prius Plug-in can deliver a range of up to 26kms* of driving from the battery alone, at speeds up to 100km/hr. Perfect for most commutes, or stuck in a traffic jam, it's also the way forward for short trips to the shops. And of course it means zero driving emissions the whole time!
Compare your commute
Range anxiety simply isn't a factor for the Prius PHEV. Unlike pure electric vehicles, when the EV range is depleted, Prius Plug-in reverts to its proven petrol-hybrid Synergy Drive® system, allowing you to travel as far as a conventional petrol vehicle. This technology produces zero emissions in electric driving mode (EV) and ultra-low emissions in hybrid drive mode allowing for kilometres of highly efficient driving. You'll never look back.
Smart inside and out
Each vehicle specification may differ to that shown below. Please check specification with your local Toyota dealership.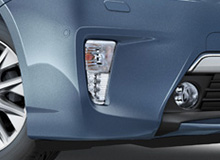 Day time running lights
Day-time Running Lights (DRL) are a key preventative safety feature as they ensure you're highly visible to other road users during the daytime. They also happen to look great.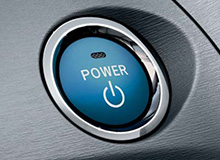 Smart entry and start system
Unlock the car without having to take your key out of your pocket or handbag. To start the vehicle, simply press the Power button.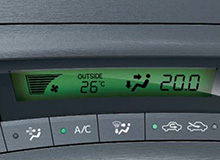 Automatic air-conditioning
Keep the cabin temperature just the way you like it with the automatic air-conditioning system.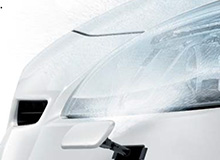 See the way with LED headlights
Newly designed LED headlights have an auto-levelling function for enhanced night vision and visibility.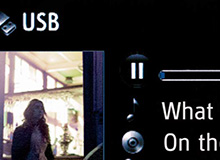 Handy 6.1" touch screen
The 6.1" colour touch screen comes with multimedia capabilities and displays key vehicle information. You can also link your smart phone remotely via Bluetooth or via a USB connection.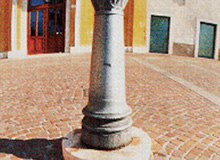 Reversing camera
Park with confidence and keep an eye out for people behind you with reversing camera technology. The 6.1" colour touch screen doubles as the parking display and makes it easy to spot any hidden hazards.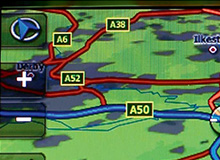 Satellite navigation - Optional
Plot your journey with advanced, easy-to-update satellite navigation. This includes on-screen SMS send and receive.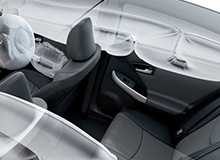 Advanced safety
The Prius Plug-in is fitted with seven airbags, Vehicle Stability Control (VSC), Whiplash Injury Lessening (WIL) seats and Brake Assist (BA) for maximising ABS during emergency stops.
Kind on the planet

Whilst in EV (Electric Vehicle) and powered by the 4.4kWh EV battery mode you emit absolutely no CO2 emissions. Zero. Zilch. Zip!

Going to work has never felt so good. Drive emission-free for up to the first 26kms* – enough to cover the lion's share of NZ commutes and short journeys.

Just look at those numbers. This ultra-low combined fuel consumption is takes you further for less while still benefiting from Toyota's proven Hybrid Synergy Technology. Simple.

Charge up your Prius Plug-in in just 90 minutes from home or an on-street charger (selected Toyota dealerships only). You can then drive up to another 26kms* before your vehicle will automatically switch to HV (Hybrid Vehicle) mode.
How do I charge the Prius Plug-in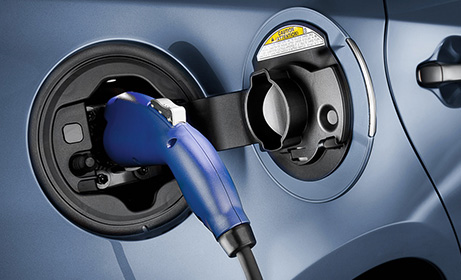 Charge from home
A New Zealand certified cable will be supplied with each Prius Plug-in allowing you to simply plug into any 15Amp mains outlet at home and charge your vehicle. A charge light will illuminate while charging is active.
The 4.5 metre long cable can be neatly coiled and stows away in a special boot compartment.
Free charging stations
Get your juice on us! Our Toyota stores* around New Zealand have free charge zones set up. Find your closest charging station.
*Excluding Coast Toyota, Albany Toyota, Tasman Toyota New Plymouth, Rutherford and Bond Porirua and King Toyota Upper Hutt.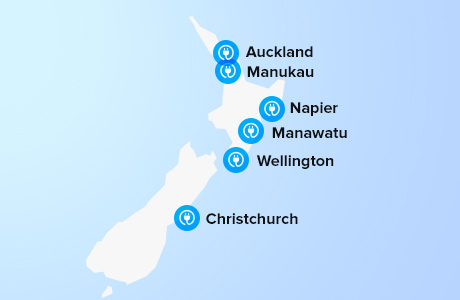 Toyota Signature Class
Plug-in Prius is available exclusively as a Signature Class vehicle. Just like all our Signature Class vehicles, this badge is our guarantee that the used vehicle you are purchasing meets our impeccable standards of safety, quality and finish. Additional benefits include the below:

We'll take care of your WOFs for the first 5 years* from purchase.

AA Roadside Assist provides 5 years* of worry-free motoring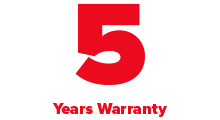 A comprehensive Toyota New Zealand manufacturer's warranty covers your Signature Class Plug-in Prius for 5 years*.

Your Lithium-ion Battery and Hybrid System are also covered for 5 years* from purchase in New Zealand. No ifs or buts.
*Kilometre limits apply. See Terms and Conditions for details.
Frequently asked questions
Do I need to plug in the Prius Plug-in in to use it?
No, but it is generally advantageous to keep it charged. Depending on your electricity rate, you could save money by plugging it in. The more often you keep the Plug-in Prius fully charged, the greater your fuel savings are likely to be.
What are the differences between a Prius and a Prius Plug-in?
The Prius Plug-in Hybrid Electric Vehicle (PHEV) gives you the option to travel in EV (electric vehicle) mode for up to about 26kms*. Normal Prius hybrids can only travel in EV mode for up to 3kms* before having to switch to hybrid. The Plug-in Prius has an advanced lithium-ion battery to make this possible. On longer trips the Prius Plug in can use its advanced power regeneration technology to regenerate EV range which will give you extra EV range at the push of a button.
How long is the Prius Plug-in battery designed to last?
With a 5 year warranty* on the Lithium-ion battery and Hybrid System you're covered for many years of trouble-free motoring. *Terms and conditions apply.
What is the expected driving range?
Prius Plug-in is projected to drive a combined driving range of 1,000km*. If kept fully charged, it allows the driver the ability to save and potentially use less fuel, yet still have the total driving range and efficiency expected from a Prius.


How do I charge Prius Plug-in?
You can easily charge the Prius Plug-in battery by plugging its included charging cord into a 15Amp New Zealand electrical outlet.
Do I need a special charger?
No, you can simply plug the Prius straight into a 15Amp New Zealand electrical outlet. Talk to your dealer about charging requirements for your home.


*Fuel Consumption figures are tested under controlled conditions and are provided for comparison purposes, actual results will vary according to vehicle usage and operating conditions. For more information click here.
Click here for Terms and conditions
---