TOYOTA DRIVEAWAY VALUE
The. Complete. Package.
Every new Toyota comes with a package to help you get the best value for up to five years of vehicle ownership. This includes up to 5 years of capped price servicing coverage, 5 years warranty, 5 years roadside assistance and 5 years WoF coverage. We'll even include all on-road costs, such as a full tank of fuel. How's that for value?
*T&Cs, KM limits, and servicing criteria apply. Toyota Driveaway Price excludes the NZ Government Clean Car Programme rebate or fee.
So Toyota Driveaway Value includes 5 years of WOFs?
Two Warrant of Fitness (WOF) inspections are included. These can be claimed at an Authorised Toyota Store or Service Agent, at the 3rd and 4th year from your vehicle's first registration date.

And up to 5 years of AA Roadside Assistance?
We automatically include four years of AA Roadside Assistance when you buy a new vehicle from us, and - as long as you service the vehicle at an Authorised Toyota Store or Service Agent at the schedule we recommend - you'll get an extra year free.

And Toyota will cap my service costs for 5 years?
Correct. The vehicle comes serviced, so that's the first year taken care of. To keep things simple, you'll only pay a fixed price for the next four years' worth of servicing after that. So, there are no surprises when you take your vehicle in to have it maintained.

My new Toyota comes with up to 5 years' warranty?
Yes, you'll automatically have three years' worth of warranty when you buy your new car through us, but we'll also reward you with an extra two years if you meet our servicing schedule, giving you a total of five years of warranty.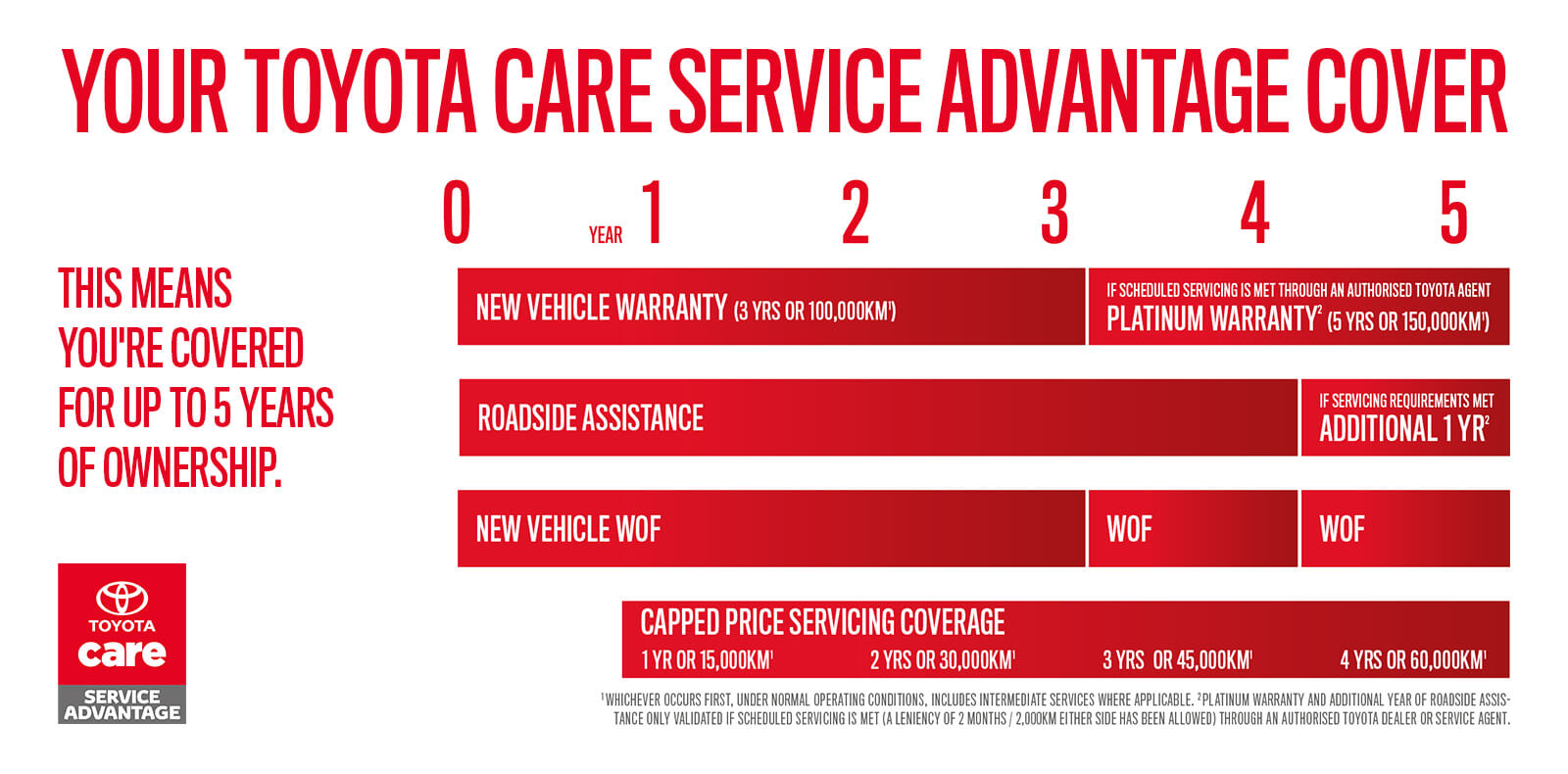 BUYING NEW
We've taken the pain out of buying new
No pressure to buy
Our staff are focused on happy customers, not numbers. We'll make you feel welcome and let you go at your own pace. If you want to take your time and wait to order your perfect vehicle, we're 100% behind that decision.
We've also changed how we store our vehicles, so you're not limited to just what you see on the lot. If there's something particular you're after, we'll bring it in from one of our hubs in Auckland, Wellington or Christchurch, so you can see and try the model you're interested in.
Find your store
Pick your perfect test drive
Sometimes, it takes a little time to know whether a vehicle is right for you. That's why we offer a range of different test-driving choices.
Take it out for a 15-minute jaunt, an overnight ride, or for a weekend. This lets you see if the vehicle will fit your lifestyle (and your garage). These flexible test drives are subject to availability of the vehicle and at the discretion of the store management.
Book a test drive
7-day money back options
Did you buy a new vehicle, but then realise it's actually not what you need?
That's fine, we understand. All our new vehicles bought at Authorised Toyota Stores come with seven-day money back options. There are a few conditions, like it can't have done more than 500km and needs to be in the same condition as when you left the car yard.
Find out more
Toyota Driveaway Value Terms and Conditions Warranty extension, WOF coverage and additional year of Roadside Assistance only validated if Scheduled Servicing is met through an Authorised Toyota Dealer or Service Agent. Warranty extension is for up to 5 years or 150,000km, whichever occurs first, under normal operating conditions. Capped price service coverage applies to servicing carried out at 15,000km, 30,000km, 45,000km and 60,000km only or time intervals of 12 months, 24 months, 36 months and 48 months only, whichever occurs first, under normal operating conditions. Prices and specifications subject to change at any time.
Toyota Driveaway Price excludes the NZ Government Clean Car Programme (CCP) rebate or fee. The CCP is a Government-mandated rebate or fee that applies to certain vehicle models, and is subject to change at any time. The final rebate or fee will be reviewed at the time of vehicle delivery, and the rate at that time will apply to the purchase. The Customer is responsible for claiming the rebate directly from Waka Kotahi.