Toyota In New Zealand
Toyota New Zealand is a wholly owned subsidiary of Toyota Motor Corporation, Japan and in 2017 celebrated 30 years of vehicle market leadership in New Zealand. At Toyota New Zealand we constantly strive to deliver customer satisfaction and continually transform ourselves to meet our customer's unique needs and styles, passions and dreams.
Customer Promise
We never stand still. We understand that cars are much more than just cars – they fulfil the needs of millions; no two ever the same, no desires ever comparable; always changing, forever on the move. That's why we never stand still – constantly pushing forward to meet new challenges with excitement, enthusiasm and a genuine commitment to improving everything we do.
Like Toyota's global promise, we take a sincere undertaking to our customers in New Zealand with their satisfaction always a number one objective.
Company Operations
Toyota New Zealand's key operations are based from three locations: the National Customer Centre in Palmerston North, Thames Vehicle Operations in Thames and a Port of Entry facility and Corporate Sales Office in Auckland. We sell new Toyota and Lexus vehicles as well as used vehicles, parts and service.
New Vehicles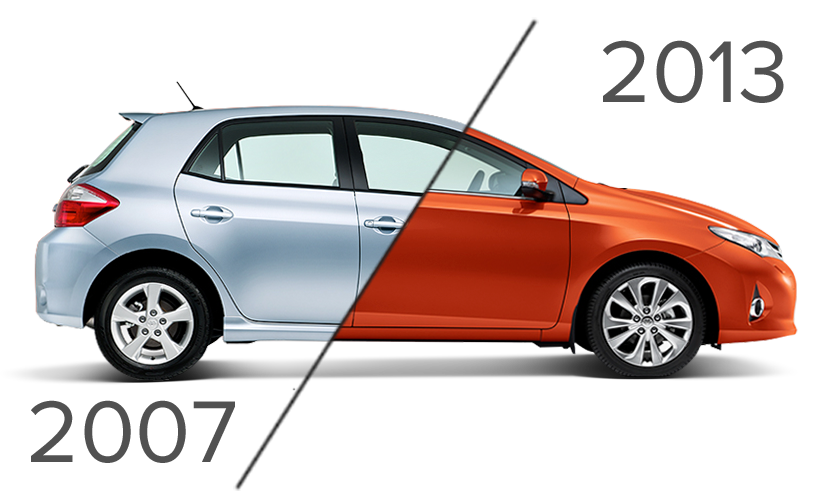 New Toyota and Lexus vehicles are sourced from Japan, Thailand, Australia, England and the United States of America. Vehicles are shipped from overseas manufacturing plants to New Zealand and distributed by local freight transportation companies. We strive to offer New Zealand customers a broad range of vehicles that meet many specifications and recently Toyota has introduced many new and revamped models for customer consideration.
Used Vehicles
Toyota New Zealand imports used Toyotas purchased in Japan and certifies them to specific standards at our Thames Vehicle Operations facility. Ex-lease Toyotas originally sold new in New Zealand are refurbished and sold as Signature Class. We continue our efforts to reduce our carbon footprint and are constantly investigating new processes
of car refurbishment. We market both vehicles under our Signature Class brand.
Parts and Accessories
We source many parts and accessories for use in Toyota and Lexus vehicles, both from overseas and local suppliers. These parts are then distributed from several warehouse facilities around New Zealand, with the key distribution hub our National Customer Centre in Palmerston North. We pride ourselves on being able to supply and deliver to high availability and timing standards.
Customer Reassurance Products
A full selection of warranties and service plans are offered for Toyota vehicles. In addition, Toyota Financial Services supplies a variety of financial products including conventional hire purchase and leasing. Toyota Vehicle Insurance is also available to Toyota owners. For more information on finance and insurance visit Toyota Finance & Leasing

All new and Signature Class Toyotas are sold with a warranty offering peace of mind motoring. Comprehensive technical training and on-going support is available to our Authorised Toyota Store to ensure our customers are looked after.
Toyota Store Network
We have an extensive network of Authorised Toyota Store throughout the country that provides Toyota customers with finance, insurance, new and used vehicles, new and used parts, WOFs, accessories, warranties and service plans.
All New Zealand Authorised Toyota Store are independently owned and operated businesses who must meet rigorous franchise standards of service to ensure we continue to provide exceptional customer service.

Environmental Management System (EMS)
Our customers consistently rank and expect that Toyota leads the way in New Zealand in caring for the environment. In addition to corporate operations we are proud that Authorised Toyota Stores are the only vehicle network in New Zealand with an independently certified Environmental Management System (EMS), called Toitū enviromark. The EMS is run by Toitū Envirocare and includes an annual assessment and accreditation process.
Work for Toyota
Have the freedom to do extraordinary things.
From the moment you enter our world, you'll find we do things differently at Toyota. That difference is that we believe in our people. At Toyota you'll be empowered to get the job done. You'll find we back you to continuously get better at what you do, and to do extraordinary things every day.
Find out more about working for Toyota
Corporate Sustainability
Toyota's commitment to sustainability is reflected in its global vision launched in March 2011 - we want to continue to lead the drive towards more sustainable ways of mobility, by working with all our stakeholders to develop products and services that enrich our customer's lives and make them smile.
Toyota New Zealand 2021 Sustainability Report
This is Toyota New Zealand's twelfth sustainability report and it covers activities for the period 1 April 2020 to 31 March 2021.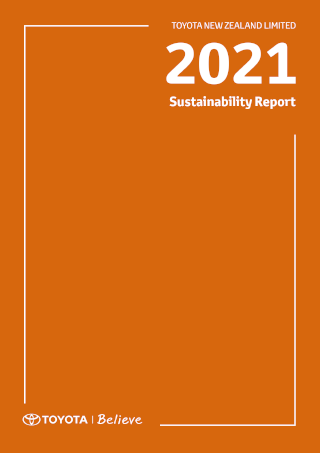 While all Toyota and Lexus dealers in New Zealand operate as independently owned businesses, their activities remain integral to the success of Toyota New Zealand, therefore relevant dealer activity is included in this report.
The report does not cover the operations of Toyota Financial Services New Zealand, a separate entity owned by Toyota Motor Corporation (TMC), Japan. Toyota New Zealand has reported annually on its sustainability impacts and performance since 2014. Prior to this, our sustainability reports were produced biennially and date back to 2005.


2021 Sustainability Report
2020 Sustainability Report - 4mB PDF
2019 Sustainability Report - Mobile View - 9mB PDF
2019 Sustainability Report - Desktop View - 8mB PDF
2018 Sustainability Report - Mobile View - 10mB PDF
2018 Sustainability Report - Desktop View - 10mB PDF
2017 Sustainability Report - 7mB PDF
2016 Sustainability Report - 9mB PDF
2015 Sustainability Report - 6mB PDF
2013 Sustainability Report - 2mB PDF
2011 Sustainability Report - 2mB PDF
2009 Sustainability Report - 4mB PDF
2007 Sustainability Report - 3mB PDF
2005 Sustainability Report - 2mB PDF