Kiwi 1-2 at Le Mans 24 Hour race
Kiwi 1-2 at Le Mans 24 Hour race
Earl Bamber wins historic motor race on debut
Starring roles in toughest race for four Toyota Racing Series graduates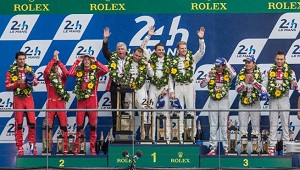 New Zealand driver Earl Bamber has won the punishing 24 Hours of Le Mans sports car race on debut with Kiwi Brendon Hartley placing second overall.
"It's beyond my wildest dreams to come here and win Le Mans at the first attempt," said Bamber after the race.
Wanganui-born Bamber is on the rise, with multiple Porsche Carrera Cup and Super Cup titles to his credit.
"It's been an amazing 12 months for me. A year ago I was driving for Timo [Bernhard, second-place finisher]'s Carrera Cup team in Germany. I have to say a huge thank you to Porsche for believing in me and giving me the opportunity to race here."
The win comes as part of New Zealand's strongest Le Mans performance this century, with Mitch Evans taking a top ten finish and placing second in the LMP2 class. Tauranga's Richie Stanaway led the GT class for Aston Martin but dropped to 41st after his co-driver Fernando Rees collided with an LMP2 car.
All four Kiwi drivers are graduates of New Zealand's unique and innovative Toyota Racing Series, a series instigated by Toyota New Zealand to provide an opportunity for young drivers to compete in a highly competitive environment designed to hone and prepare them with the racing skills necessary to step onto the world stage.
Other TRS graduates at Le Mans included Jann Mardenborough (UK), Nathanael Berthon (France) and Pipo Derani (Brazil). Derani finished 12th, Berthon 13th but Mardenborough was unable to make the finish.
New Zealand drivers won at Le Mans in 1966, when Chris Amon and Bruce McLaren crossed the line ahead of another Kiwi, Denny Hulme, and his American team-mate Ken Miles.
Bamber, racing in a team that also featured German Formula One driver Nico Hulkenberg and British driver Nick Tandy, started third on the grid. The trio took the lead after eight hours of racing and were dominant through the rest of the race.
Brendon Hartley, former F1 driver Mark Webber and German driver Timo Bernhard had started from second on the grid and led the race up to hour nine before losing the lead to the winning trio.
A huge crowd of more than 250,000 fans attended the race.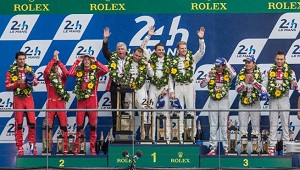 Earl Bamber's recent career highlights
2014 1st Porsche Mobil 1 Supercup
2014 1st Porsche Carrera Cup Asia
2014 1st Liqui Moly Bathurst 12 Hour - Class B
2013 1st Porsche Carrera Cup Asia
2013 1st Porsche Carrera Cup Asia - Macau Grand Prix Invitational
2011 3rd GT1 New Zealand Racing Series
2010 1st New Zealand Grand Prix
2010 2nd Toyota Racing Series New Zealand
2008 2nd Formula V6 Asia
2008 2nd Toyota Racing Series New Zealand
2008 1st Toyota Racing Series - Hamilton 400 Trophy
2006 1st Formula BMW Asia