Cassidy wins in Japan, Stanaway scores at Monaco
Cassidy wins in Japan, Stanaway scores at Monaco
Auckland racer Nick Cassidy continued on his winning way with a victory and second place at the most recent round of the All-Japan Formula 3 Championship.
With series leader Kenta Yamashita only managing an eighth place in the first race, Cassidy in his TOM'S Toyota has shot to a seven points lead over Yamashita in the title race with five rounds and ten races still to be completed.
In the first of two races at Okayama, Cassidy took pole, posted fastest lap, and led by ten seconds at the chequered flag. In the second he missed pole by a fraction but tucked in behind his TOM'S Toyota team-mate Yamashita for a 1-2 finish, banking valuable points to retake the series lead.
Cassidy and his team-mate have now won six of the seven races of the championship. The Japanese Formula Three Championship uses a Dallara chassis with a choice of two litre motors from various manufacturers.
Meanwhile, Tauranga racer Richie Stanaway is "over the moon" after scoring his maiden GP2 win on the tight and twisty streets of Monaco on Saturday.
On just his third race weekend in GP2, Richie Stanaway scored a lights-to-flag victory in the category's sprint race at Monaco, giving his Status team its first win in the Formula 1 support category. He said the tight nature of Monaco means it is critical to qualify well. Front row of the grid gave him every chance at a win.
"If you get the lead in the first corner in Monaco, [and] your pace is good it's really difficult for anyone to overtake. After the first couple of laps I knew that if I just stayed focused that was pretty much job done because I wasn't struggling with any balance issues. I just went as hard as I could," Stanaway said.
He powered past pole man Raffaele Marciello at the start and maintained control throughout the race.
Stanaway demonstrated a clear speed advantage over Marciello, and by mid-distance his lead stood at three seconds. He made the most of his dominant pace, power sliding out of the final corner to take the chequered flag.
"Obviously, GP2 is quite new to me: it's just my third race weekend so to win a race is quite a surreal feeling and of all places to do it as well. Yeah, I couldn't be happier and I'm really happy for the team as well. I've really enjoyed it," he said.
Stanaway is a graduate of New Zealand's Toyota Racing Series; Nick Cassidy a multiple champion of the series and winner of the New Zealand Grand Prix.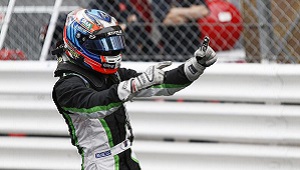 Ends
For further information please contact:
Morgan Dilks, Toyota New Zealand, Public Relations
Morgan.dilks@toyota.co.nz, (06) 351 3216 or 027 511 8622