All About Battery Electric Vehicles
*Concept model shown. Cars and accessories may differ from final New Zealand specification.
Pure electric power while on the road for a better tomorrow
Battery Electric Vehicles - or BEVs - have been on our roads since 2011, and have been steadily growing in popularity since. They offer drivers a smooth, quiet and clean journey.
Being a fully-electric vehicle, BEVs don't produce emissions while on the road, and with 80% of New Zealand's electricity generation coming from renewable sources, powering them can be a better environmental choice. We've pulled together answers to a lot of your questions about BEVs and their advantages.
What is a BEV? How do they work?
Battery Electric Vehicles (BEVs) are fully electric, meaning they only use a Lithium ion battery to power the vehicle. This battery stores the electricity needed to drive the vehicle instead of relying on an internal combustion engine. This means BEVs don't produce any harmful tailpipe emissions while driving.
Do BEVs need to be charged?
Being an electric battery, BEVs need to be recharged at charging points. There are three kinds of charging points. The fastest is a Direct Current (DC) charging point that you'd find at service stations or other public locations. The other two are Alternating Current (AC) charging points, either using domestic plug sockets or wall-mounted chargers.
We've also included regenerative braking systems that not only reduce wear on braking pads, but can also help generate electricity which is then directed back into the battery.
Can I trust battery technology? Is it reliable?
Toyota's been working on electric vehicle technology since 1997, giving us a wealth of experience to draw on to create a battery-powered vehicle that has unrivalled range and performance.
Electric vehicles have fewer moving parts, no wear-and-tear from containing a combustion reaction, and don't have a clutch, an alternator, spark plugs or a starter motor, to name a few complex items found in a combustion engine. This means they have less parts that require maintenance, further reducing their running costs.
What's the difference between hybrids and BEVs?
Hybrids (both HEVs and PHEVs) and BEVs are kinds of electric vehicles, but the key difference between them is a BEV doesn't have an internal combustion engine. BEVs are only powered by their electric motor, while HEVs and PHEVs employ both an internal combustion engine and electric motor, meaning they still rely on fossil fuels, though nowhere near the extent that a conventional internal combustion engine-only vehicle does.
How long do batteries in BEVs last? What happens to the old batteries?
Our Battery Electric Vehicles are made with the same quality, durability and reliability as all Toyota models, and our batteries are covered by an 8-year/160,000km warranty.
Once a battery has come to the end of it's operational life, it needs to be retired. We have a nationwide programme in place to collect batteries from our stores and automotive dismantlers.
How powerful is a BEV? Can they travel long distance?
Electric motors are able to provide instant torque, or pulling power, as soon as the accelerator is pressed.
Our next generation of BEVs – such as the bZ4X – will have very competitive vehicle ranges. The bZ4X's cruising range is about 500km* on a full charge.
*Fuel Consumption figures are tested under controlled conditions and are provided for comparison purposes, actual results will vary according to vehicle usage and operating conditions.
How efficient are BEVs? Are they affected by the seasons?
BEVs are much more efficient than internal combustion vehicles. In an internal combustion vehicle, most of the energy produced by the combustion of petrol is wasted. Only around 18% is translated to the wheels. But with BEVs, the energy is already stored in the battery, meaning 70% or more of the energy makes it to the wheels.
Are BEVs expensive?
BEVs cost around the same as a conventional vehicle, but over their lifetime will actually cost considerably less to own and operate. This is due to the fact you don't need to pay for petrol, maintenance costs are up to 40% cheaper, and there are government incentives and rebates that bring the cost down even further.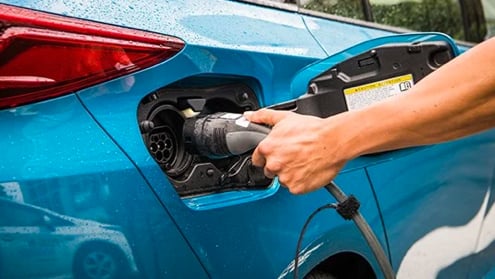 Plug-in Hybrid Electric Vehicles (PHEV)
The larger capacity hybrid battery of our Plug-in Hybrid Electric Vehicles (PHEV) provide the zero driving emission efficiency of a battery electric vehicle in EV mode while offering the security of having petrol power for additional range when travelling on longer journeys.
Check out the Prius Prime PHEV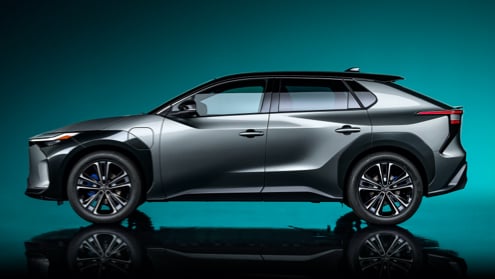 Battery Electric Vehicles (BEV)
Producing zero emissions while driving, and powered solely by electricity, our Battery Electric Vehicles (BEV) give you great performance and a comfortable ride.
Learn more about BEVs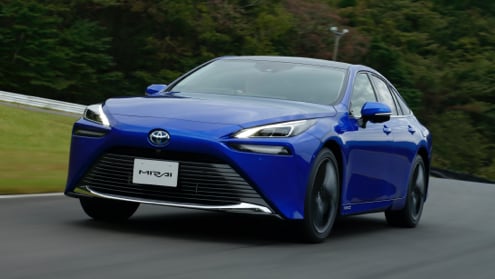 Fuel Cell Electric Vehicles (FCEV)
An innovative and exciting technology, Fuel Cell Electrified Vehicles (FCEV) offer the range and convenience of conventional petrol engines with the power and performance of an electric vehicle, fuelled by hydrogen and the only exhaust by-product they produce when on the road is water.
Learn more about this revolutionary new technology
Our Dedication to an Electrified Future