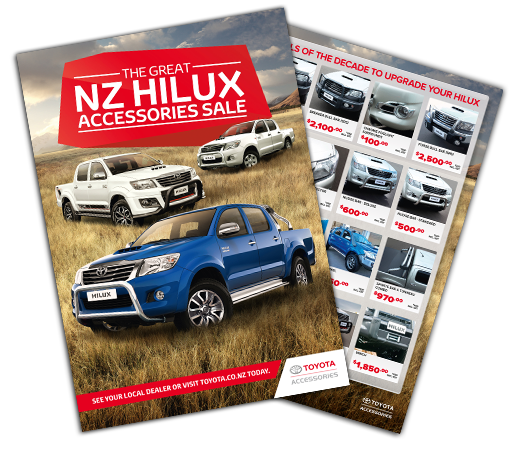 Toyota Genuine Accessories
Choose from our huge range of Toyota Genuine Accessories and add the protection, capabilities or just sheer luxuries that your vehicle deserves. Each Toyota Genuine Accessory is designed to deliver peak performance to your vehicle. Manufactured from the highest quality materials, only Toyota Genuine Accessories ensure maximum longevity and come with a Toyota guarantee.
*Prices and specifications are subject to change without notice. Please contact your dealer for confirmation.
All prices included in this website are in New Zealand dollars and are inclusive of GST. The recommended retail prices are recommended only and there is no obligation for us or our dealers to comply with the recommendation. When on-road costs are applicable, these are specified as additional to the prices shown.
Vehicle accessory prices shown are inclusive of estimated fitting costs unless otherwise specified. The estimated fitted price is based on factory fitment at time of order. The estimated price assumes a recommended selling price for the accessory plus an estimate for the labour required to implement the fitting. Actual Dealer fitted prices may vary from the prices stated. Some Toyota Genuine Accessories are not available for all models/grades. Accessories may require painting to match vehicle body colour. Tyre purchase and fitment are not included in the accessory wheel purchase price.