Partnerships
Toyota New Zealand proudly lends its support with one aim: growing and supporting the best of New Zealand life.
Toyota Racing New Zealand
Finding New Zealand's Next World Champion.
Toyota Racing New Zealand is committed to developing and nurturing New Zealand's next generation of world-class drivers. Combining the latest innovations in motorsport engineering, technology and safety features, with the natural driving talent of our aspiring Kiwi drivers, we aim to provide them with the best possible preparation for intense competition on the global stage. Because we believe our drivers can beat the world.

Visit Toyota Racing New Zealand
Department of Conservation
Toyota New Zealand and DOC's new partnership will inspire a new generation to love their patch of
New Zealand by creating Kiwi Guardians.
There are plenty of reasons to get into the great outdoors, but with so many digital toys available, kids are spending more time inside. This year, Toyota New Zealand and the Department of Conservation are working together to get kids into nature. We want them to explore their natural surroundings, earn rewards and take action in their communities towards creating a better environment.

Become a Kiwi Guardian

Parenting Place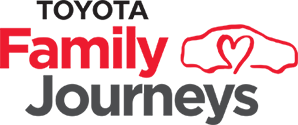 Toyota has been a long term supporter of the Parenting Place. It's a partnership that has had a positive impact on families across New Zealand. Together with the Parenting Place, we've now launched Toyota Family Journeys. Tips, tools and inspiration to help Kiwi parents navigate the twists and turns of family life - in the car. It's all about believing in a better future for our children.
Emirates Team New Zealand

In pursuit of sport's most prestigious trophy, one team carries a legacy of excellence like no other: our team.
Few teams can boast the success of Emirates Team New Zealand. Just reaching the finals is a significant achievement and that's what they've done for five of the last six events. Better yet, they've won two of them. This commitment to excellence and their restless spirit of improvement are just some of the reasons we're proud to have been a partner for over twenty years.