Toyota Financial Services
Finance and insurance can complete the vehicle purchase process to your lifestyle needs and help to ensure your ownership experience is an assured one. Toyota Financial Services like Toyota New Zealand is owned by Toyota Motor Corporation in Japan. Established in New Zealand in 1989 we have been offering specialised finance, leasing and insurance options to Toyota customers for over 25 years through our Authorised Toyota Dealers. It's this longevity coupled with our unique offering that allows us to go the extra mile for New Zealand motorists.
Finance
Finance can be a big part of many large purchase decisions and it's important to understand your options and avoid over committing yourself. Whatever your vehicle finance needs; loans or leasing, personal or business, we're here to make it easier for you with advanced products, better pricing and efficient, friendly service.
You can finance your new vehicle many ways and you should always consider the following aspects:
Are you going to own or only rent the vehicle?
What deposit is required?
Do payment amounts suit your income flow?
How long will you be repaying the contract?
What are the interest rate and fees?
What rights do you have, and what will it cost to settle all or part of the facility?
What security do you have to offer to support the loan?
What, if any, additional insurances or services are you required to take as a condition of being given the loan?
Toyota Financial Services strives to offer the best rates for all vehicle finance-based requirements and we have the flexibility to tailor terms and features across our innovative loans and leasing products. Depending on your requirements, we can also bundle payment protection cover, car insurance, vehicle warranties and servicing, or a full fleet management offering, all with easy payments to suit your budget.
Click here for more information on our finance products or contact your dealer
Insurance
Toyota owners looking for a complete car insurance package can trust in Toyota Vehicle Insurance for premium and comprehensive car insurance cover for both new & used vehicles.
Toyota Vehicle Insurance features include:
Cover for Toyota vehicles up to 20 years old
Good-as-new guaranteed; we ensure your vehicle is repaired with Toyota Genuine Parts, to the highest possible standard
If your new Toyota is less than 3 years old, in a major accident, and can't be repaired to our standards, we will replace it with a brand new vehicle
Two years replacement on Signature Class vehicles – if your Signature Class vehicle is stolen or cannot be repaired to our standards, we'll replace it with one of the same or similar specification (if within 2 years of the date of purchase and travelled less than 100,000km)
Only Toyota Genuine Parts used
Round-the-clock accident assistance
Vehicle contents cover
Multi-vehicle discounts
Plus numerous other features including legal liability cover, personal items in the vehicle cover; trailer, ski pod or roof rack cover, medical expenses cover, personal injury cover, key and lock replacement, security system replacement and more, check a copy of the policy for the current details.
Click here for an insurance quote and to insure your vehicle now or contact your Toyota dealer.
Fleet
Toyota Financial Services has been a leader in fleet management services for New Zealand business for over 20 years.
In addition to finance and insurance products for Toyota owners, we provide business fleet services that are supported by a dedicated team of over 60 staff nationwide. Our AA-/Aa1 credit rating sets us apart, offering security and stability for the long haul – an important asset in turbulent economic times.
Fleet Management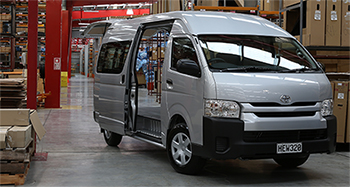 A customised Toyota Financial Services solution that suits your business could help you get more value from your fleet. Specialised fleet management opens up a world of options, designed to save your business time and money, and we have unrivalled experience in analysing and helping clients restructure fleets to minimise costs and maximise efficiency.
Talk to us about:
Specialised fleet management.
Ownership and lease options – or a blend of both.
Finding hidden cost-efficiencies and benefits in your fleet programme to reduce your administration costs and improve reporting.
Click here for find out more or contact our Fleet Management team to discuss your fleet situation on 0508 GO TOYOTA (0508 46 86 96)